The Construction Playbook sets new guidelines for public sector procurement.
The Construction Playbook implements what the government perceives to be sector best practices and documents changes as to how contracting authorities and the construction industry need to work with each other in the future. The 83 Page Document details how government and industry can better work together to deliver public sector works in a more modern and efficient way and outlines green initiatives for the construction industry to minimise greenhouse gas emissions of projects. The new guidance has been developed in consultation with construction industry and sets out 14 key policies. Two years ago, the level of public sector construction work, amounted to almost £120 billion to the UK economy and provided employment to around two million construction sector workers.
What Does the Construction Playbook Outline?
CLICK HERE TO DOWNLOAD THE CONSTRUCTION PLAYBOOK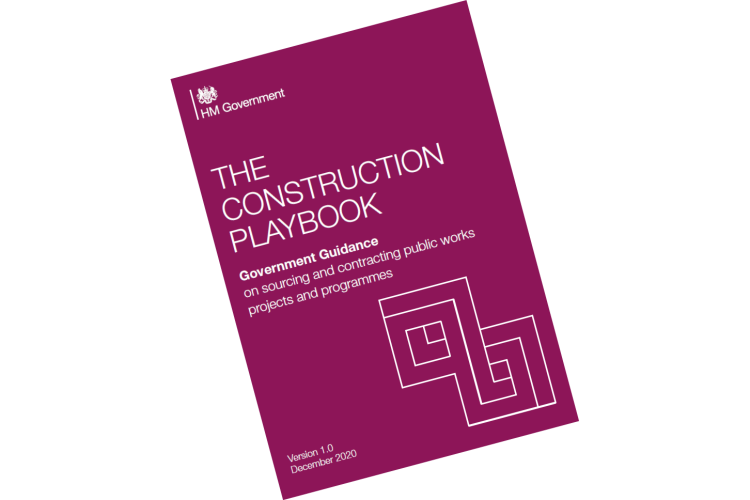 The Playbook documents the governments expectations on all manner of projects from the building of new roads, hospitals, educational premises and even prisons. An important outlook is that it outlines the key role the construction sector will play in both the UK's recovery from the COVID-19 pandemic and work to carbon emissions over the next 30 years. Green initiatives in the Playbook include promoting the use of carbon assessments to understand and minimise the greenhouse emissions of projects.
The Construction Playbook, launched today, outlines what government expects from these works, from new roads and railway lines to schools, hospitals and prisons.
The Playbook also outlines the key role the construction sector will play in both the UK's recovery from the coronavirus pandemic and work to bring greenhouse gas emissions down to net zero by 2050. Green initiatives in the Playbook include promoting the use of carbon assessments to understand and minimise the greenhouse emissions of projects.
Alex Chisholm, Chief Operating Officer for the Civil Service and Permanent Secretary for the Cabinet Office , stated;
Delivering excellent public works is critical for the government to deliver the public services that we all rely on. Up to £37 billion of contracts across economic and social infrastructure will be brought to market over the next year, and to meet this ambition we need to change our approach to delivery. From building schools, hospitals and prisons, to major infrastructure and the wide range of construction, engineering and other works projects and programmes undertaken by the public sector, we are committed to delivering better, faster and greener solutions that support our recovery from the COVID-19 pandemic and build the economy of the future while improving building and workplace safety. The construction sector is key to the UK economy. It contributed £117 billion to the UK economy in 2018 and supports over two million jobs. We will continue to strive for a world-class sector – improving productivity in construction safely, delivering skilled jobs across the country to level-up the economy and achieving net zero greenhouse gas emissions by 2050. This vision will only be achieved by working together and setting out clear requirements to reform the industry. Government leadership is crucial and we need to align our efforts with the sector to ensure actions are consistent and reinforcing. The Construction Playbook is the result of extensive collaboration from across the public and private sectors to bring together expertise and best practices. It builds on the recently published National Infrastructure Strategy and supports the government's ambition to transform our infrastructure networks over the next decade and beyond so we can build back better, faster and greener. I am grateful to all those who contributed and I am delighted to support the Construction Playbook.

Mandatory Policies for Public Sector Construction;
Commercial pipelines – formulating and publishing comprehensive 3-5 year pipelines of current and future contracts
Market health and capability assessments' – considering skills in the market when planning projects and activities that may help strengthen the market
Portfolios and longer term contracting – designing contracts and frameworks around giving suppliers the certainty to invest in skills, resource, and innovation
Harmonise, digitise, and rationalise demand – seeking opportunities to collaborate with other authorities to develop and adopt shared requirements and common standards to drive efficiencies
Further embed digital technologies – using the UK BIM Framework to enable secure, resilient data sharing across organisations. Improve performance, sustainability, and value for money of projects by providing data-driven insights
Early supply chain involvement – investing time early, which will reduce unforeseen cost and increases productivity and on-site delivery
Outcome-based approach – adopting an outcome-based approach to quantifying success with KPI improvement drivers, Inform the choice of route to market, and help suppliers understand ambitions
Benchmarking and Should Cost Models – undertaking data-driven key deliverables including cost, programme and greenhouse gas emissions and support decision making and budget setting.
Delivery Model Assessments – following an evidence-based approach to deliver project models.
Effective Contracting – reviewing frameworks to ensure competition and flexibility across government and ensure projects drive collaboration and continuous improvement
Risk allocation – ensuring risks are allocated owned or jointly owned by the parties best able to manage them
Payment mechanism and pricing approach – linking payment to the delivery of  work value and performance, making prompt payments, and not asking suppliers to take unlimited liabilities
Assessing the economic and financial standing of suppliers – Ensure robust, transparent checks into economic and financial standing as a means of  safeguarding delivery
Resolution planning – Contingency planning on critical projects. Migrating risk of supplier insolvency  with suppliers to provide their own 'service continuity plans' and financial monitoring
Other specific measures include:
Providing greater certainty to industry through long term plans for key programmes. This will include longer term contracting across a range of areas which will give industry the certainty required to invest in new technologies, delivering improved productivity and efficiency savings
Incentivising industry to innovate by focusing on the output of what we want a project to achieve, rather than micromanaging how it is done
Modernising construction by standardising designs and parts, as well as embedding digital technologies including the UK Building Information Management Framework
Greater focus on building positive relationships with robust contract management between project leads and industry
Investing more in training and apprenticeships, driving forward innovation in construction, boost productivity and focus on value for money in public sector developments
The Construction Playbook also makes it clear that the construction sector must put safety at the heart of everything it does and reflects on the learning lessons from the Grenfell Tower tragedy
Cabinet Office Minister Lord Agnew, said:
As the largest construction sector customer, government is in an ideal position to ensure that the industry is productive, professional and delivers value for money for taxpayers. By adopting the new Construction Playbook, developed with industry partners, we will help ensure that the sector becomes greener and more innovative.
The Construction Playbook ensures that Construction companies think about projects and programmes in a different to way they may have done historically. The Playbook introduces transformational changes through systematically approaching risk, sustainability and innovation across portfolios of projects and programmes. The new policy is intended to harness the excellence which already exists and will drive progress and strengthen the sector, including those shortfalls of low levels of productivity and future skills shortages and will help create a profitable, sustainable and resilient industry with a well-trained workforce for the future.
One of the major factors is that whilst successful initiation may take considerably more time at the start of the project, delivery will be much swifter. The Playbook brings together people from across different functions to create teams with the right expertise. The term  'front end loading' will improve the potential for successful outcomes By adopting the policies in this Playbook, construction companies will;
*Set clear and appropriate outcome based specifications that are designed with the input of industry to ensure we drive continuous improvement and innovation.
*Favour longer term contracting across portfolios, where it is appropriate. We will develop long-term plans for key asset types and programmes to drive greater value through public spending.
*Standardise designs, components and interfaces as much as is possible. • Drive innovation and Modern Methods of Construction, through standardisation and aggregation of demand, increased client capability and setting clear requirements of suppliers.
*Create sustainable, win-win contracting arrangements that incentivise better outcomes, improve risk management and promote the general financial health of the sector.
*Strengthen financial assessment of suppliers and prepare for the rare occasions when things go wrong, with the introduction of resolution planning information requirements into critical contracts.
The publication of the Construction Playbook is one of the most significant events in the construction sector for some time. It delivers a fresh  approach to procurement and delivery of construction projects which is more collaborative and embraces the whole construction supply chain and will undoubtedly create the foundations for a new outlook for construction, increasing capabilities of the industry, with transparency at the heart of every project decision and reduce unnecessary delays in projects.